Long ago Virtual casinos used to be built to run locally on your computer. In those days the most popular programming language was C or C++ for these types of applications.
But things evolved and everything started to move to the browser, initially the casinos was almost universally apps built in Flash with Action Script as the default language. With the first Flash apps written in Action Script, things were not that different from what you expect to see today, in fact many online casinos still have Flash apps for their sites. Even though nowadays Flash has evolved and it's no longer Actions Script that are the flavour of the day, but instead it's Action Script 3.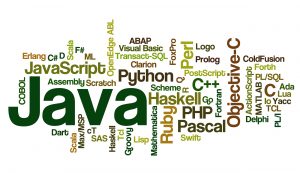 But the most modern online casino now writes apps for HTML5 which are written in Java Script. There are several important benefits to this, not least the improved performance over Flash based games, but it is also much more secure. Flash had several issues, notably performance issues, but also safety issues.
Until now we have just talked about the software that runs on the players computers, but there is of course a lot of things that also run on the service providers servers.
Here are things are quite adverse, with companies such as Betsson running on Microsofts .net framework while other are opting for other solutions, including open source solutions.
When these companies grow there is also a need to handle a huge amount of requests, some inovative companies such as Bet365 have switched to a Niche language called Erlang that was developed by the Swedish Telecom Company, Ericsson in the 80's.
It's always hard to know what will happen in the future, but one thing is for sure and that is that casino companies will continue to evolve and make use of the latest technology available to them.